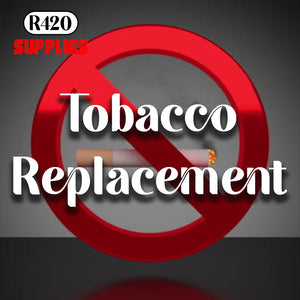 Quitting or Replacing Tobacco
A lot of us began our Cannabis journey by mixing tobacco in joints with the flower. Some of the older readers will remember spreading hash over the tobacco and having the stick 3 skins together!! The struggle was most definitely real!!
Apart from Tobacco being extremely bad for our health, it's also very expensive and takes away from the overall flavour and enjoyment of your Cannabis.
I get asked on an almost daily basis to recommend a tobacco replacement product, lucky for you, I've lost to choose from!!
1. Herbakko - This product is produced here in Ireland. It's a totally natural tobacco replacement product that uses finely chopped plant matter that's naturally sweetened with honey and fruit juice. 
2. CBD Shake - Shake is the material that's left after all the Flower and Baby Buds have been removed. This product will include very small buds, loose leaf trimmings and a tiny amount of stem. It can be consumed on it's own or added to other Cannabis products to add flavour.
3. CBD Vape Pens - I've personally had excellent success with these CBD Vape Pens from Irish Flower. These disposable units come in 500mg and 1000mg options and are made using top quality CBD Distillate.
4. CBD Flower and Extracts - CBD Flowers and Extracts are produced from the Cannabis plant. What makes it different from traditional Cannabis that you may be experienced with is that it contains less than 0.2% THC (the psychoactive compound in Cannabis) and levels of 12-25% CBD
You can check out all these products and more in our Tobacco Replacement category.
---