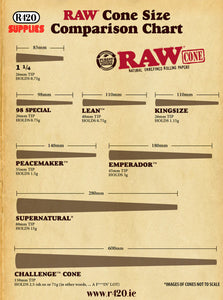 RAW Rolling Papers Cone Size Guide
RAW Pre-Rolled Cones are the most popular on the market.
They come in various lengths and pack sizes. The bigger the cone, the more material it will fit!!
The most common are the Kingsize and the 1 1/4 sizes, both of which are manufactured here in Ireland.
We only sell authentic RAW papers and accessories. All items can be checked online to confirm this.
Check out our video guide on the easiest way to pack cone!!
---